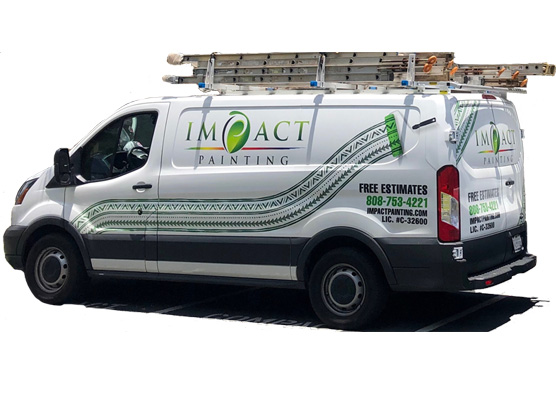 Impact Painting is Hawaii's choice for top-quality and eco-friendly commercial and residential painting services.
Our team of professional painters is available to help you with all of your interior and exterior painting needs. We have experience working with homeowners, builders, property managers, and business owners all over the island of Oahu, from Diamond Head to the North Shore.
Call us today to schedule a free estimate! We will meet with you to discuss the specifics of your project and what your home or business needs.
We have years of experience working with home builders and homeowners to keep their new or existing houses and condominiums in excellent condition.
Our team of experienced painters is available to provide your commercial property with the interior and exterior care it needs to maintain its appearance for the benefit of potential clients, customers, and employees.
We are a proud provider of top-quality federal, state, and county painting services on Oahu. We will work with your schedule to reduce disruptions so you can continue to operate during your project.

Karen P.
Honolulu, HI
Impact Painting finished so quickly and were always so polite and organized. They were so detail-oriented and precise; every edge was clean and the floors and walls were spotless. It was an amazing job and continues to look just as good today, 5 years later. The house is noticeably brighter and happier! Thank you so much!


Chrissy C.
Honolulu, HI
Impact Painting's customer service is first rate from start to finish. Prices are clear, competitive and without hidden costs. They exceed expectations, provide useful guidance, deliver on time and their attention to detail is refreshing. Highly recommend them without reservation.


Lori U.
Kailua, HI
They treated my home with great respect. I was very impressed with the finished product. My house looks brand new! I will definitely use Impact Painting again, and have recommended them to anyone looking for a high quality, affordable painter.


Tahiti R.
Aiea, HI
These guys really did an amazing job with removing old wallpaper scrubbing walls and painting! The place looks brand new and when they left they cleaned up as if they were never there! So professional, on time and very kind! I would recommend them 100%!


Kira K.
Kaneohe, HI
When we were looking around we had to deal with a lot of "flaky" painters – some gave us quotes and never came back to do the job, some never called back, and some had really high prices… but we were more than satisfied with the complete service that Impact Painting provided! We wished we had called them first!


Penny D.
Mililani, HI
Our thanks & appreciation to the Impact Painting team for such a beautiful exterior painting job on our house. Our entire experience was great – from the efficient & accurate quotation from Manny, to the final result – and we are really happy. Our team, Ali"i & Jason, were extremely skilled, precise & efficient – and put much care into good preparation. Thank you so much!


James C.
Honolulu, HI
I recently remodeled my house and needed exterior painting done. I called up Manny @ Impact and he was able to come out to my house for a free estimate the following day. He was very knowledgeable and answered all the questions I had. Their warranty, friendly attitude, and responsiveness to calls and emails are what sold me. They were even able to squeeze my job in within a week. I couldn't be happier with the outcome!


Chris V.
Ewa Beach, HI
These guys are great they did a very good job painting our house. They were always on time and very detailed and not to mention quick. Very professional and friendly, they are good about returning phone calls and setting up times to discuss what needs to be done. Price is VERY reasonable and would highly recommend to anyone!

CALL US TODAY TO SCHEDULE A FREE ESTIMATE!