How Do We Make an Impact?
Impact Painting strives to make a positive impact on our environment and in our community.
Our day to day processes are completely paperless. From our internal management and communication, to job quoting and contracts, and all the way through final invoicing.
We practice smart material management techniques by accurately estimating the amount of materials needed for the job so we produce less waste. Instead of bulk ordering all paints prior to the project, we order approximately half of the materials required and pick up the remaining materials as the project progresses.
We recycle and reuse as many materials as we can and responsibly dispose of paints and painting chemicals following EPA guidelines.
We participate in beach clean ups and community events.
Impact Painting is Hawaii's industry leader in using Sherwin Williams' top-shelf Emerald paint line. We offer at-cost paint supply upgrades to low-VOC alternatives and back them up with up to 5-year warranties.
Using no or low-VOC paints dramatically reduces the health risk and environmental hazards that accompany traditional paints and practices. Our goal is to improve the indoor air quality during painting projects by using low-VOC paints and proper ventilation with fans, dust barriers, air purifiers, and vacuuming only with HEPA filters.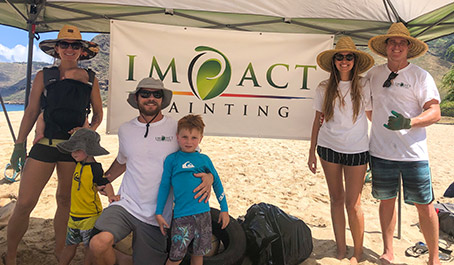 Low-VOC paints are ideal for:
Poorly ventilated areas
Medical facilities
Convalescent facilities
Schools and daycare centers
Pet stores
Veterinary offices
Restaurants
Chemical-sensitive clientele
Eco-friendly painting services do not equate to expensive painting services. We offer competitive pricing with superior results. With a healthier and safer alternative to traditional paints and practices at the same cost, why would you choose anything but Impact Painting?